With the pandemic raging all over the world, there's a substantial change in how people access healthcare.Virtual healthcare access has gained momentum and this urge telehealth initiatives are gaining favor amongst different patients.
Three-quarters of patients reported telehealth patient satisfaction, while others said they planned to use the technology after the pandemic surge.
Survey Shows TeleHealth Satisfaction
Nearly three-quarters of patients accessed their first-ever telehealth visit during the first wave of the pandemic, and most of them reported high patient satisfaction with the experience, according to a new survey of 1,000 patients conducted by Wakefield Research on behalf of Kyruus.
the pandemic was a boon for telehealth as the Homestuck people frantically looked for medical advice and help
Way Ahead in Post Pandemic World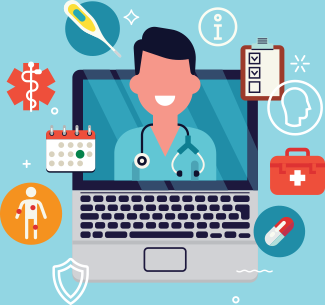 However, as healthcare professionals move forward with telehealth visits as a part of the post-pandemic new normal of healthcare delivery,
they will need to focus on patient appointment scheduling,
virtual follow-up care strategies,
and care coordination across virtual delivery models.
 Healthcare Organization Resorted To Telehealth
As the disease spread, health organizations had to close down their premises and restrict access to the public. However, this didn't mean that people were stripped of medical care rather it reached directly at their doorstep with the help of telehealth services. Healthcare organizations turned to telehealth as a remote strategy to continue to manage care.
Patients Expectation & Experience
According to the survey, these visits were the first telehealth experience for nearly three-quarters of patients, and organizations met expectations for a good patient experience.
75% of patients expressed satisfaction with their telehealth visits.
By and large, patients were utilizing telehealth to fill in low-acuity care access gaps.
41% used telehealth for a wellness visit
30% for chronic disease management. Fewer patients used telehealth for acute care needs or mental health (20 percent)
14% used the technology to check for pandemic symptoms.
Future Standard Healthcare
Moving forward, patients expect telehealth to become a standard part of healthcare access.
50% said they would be willing to switch healthcare providers if it meant they would be able to continue accessing telehealth regularly.

They are even willing to pay for the service.
21% said they'd access telehealth on a limited basis even if their insurance did not cover it
28% said they would whenever possible.
Healthcare Provider Pushing for Telehealth
healthcare providers are aware of this new emerging trend and hence they are making telehealth reimbursement plans permanent even after the pandemic.
Patients generally plan to continue using telehealth for the same care needs as during the pandemic.
60% want telehealth access for wellness checks
58% would access it for surgery- or procedure-related visits, like pre-op or follow-up care.
Another 58% would use telehealth for pandemic symptoms.
Areas To Improve Service
But as healthcare organizations ramp up plans in anticipation of continued patient favor for telehealth, there are a few areas where they can improve their services.
545 of survey respondents said they would prefer online appointment scheduling.
This was true for 72% of GenXers, 64% of Millennials, but only 38% of Baby Boomers.
During this first pandemic surge, only 30% of patients said they booked their telehealth visits online.
Additionally, organizations would benefit from upping their virtual post-discharge and follow-up plans.
Fewer than half of respondents felt they understood the next steps in their care after a telehealth visit, specifically saying they don't know how they could access virtual or telehealthcare again in the future.
These survey findings reflect others from across the industry. June 2020 survey data from Doctor.com showed that 83 percent of patients anticipate long-term telehealthcare access. Nearly half of the 1,800 survey respondents said they used telehealth during the first pandemic surge, and 83 percent anticipated they would continue using it even after the virus dies down.
Can They fill up the gap?
The survey showed that telehealth can help providers fill the current chronic disease management gap and offer some semblance of treatment.
91% said telehealth would help them stick to a health visit schedule and manage their prescription medications.
93% said telehealth would help them learn about new medication options that are available to them.